BLUEBERRY QUINOA BARS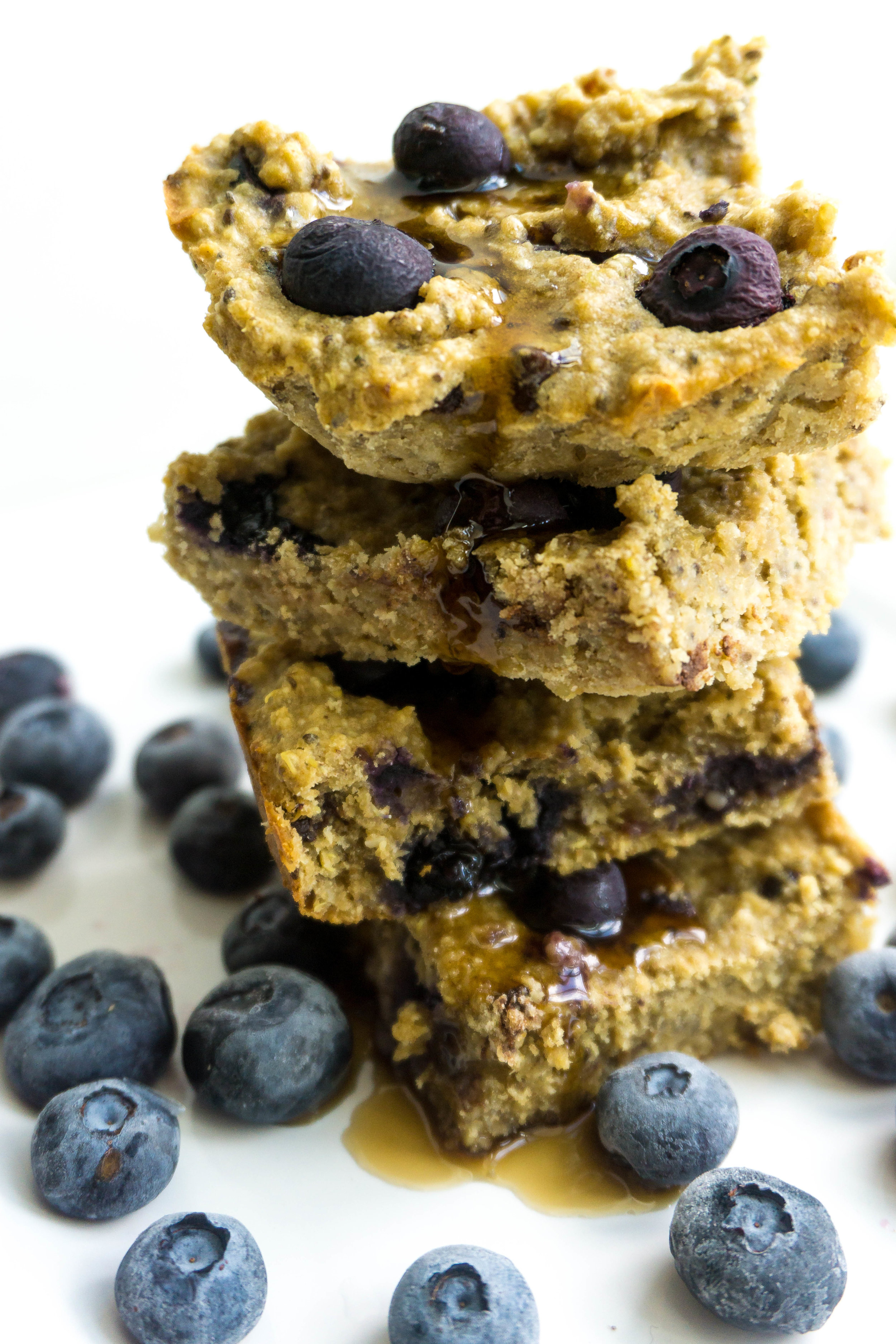 BLUEBERRY QUINOA BREAKFAST BARS
So I will admit, quinoa is NOT my favorite grain - however I have found several recipes that I find delicious!
Breakfast is one of the most difficult meals for me - I MUST eat in the morning or else I'm a hangry monster, however I don't usually have an appetite in the morning! So bars, chia pudding, and smoothies really help curb the hunger and leave me feeling full for an extended period of time - which is also another issue I have (I'M ALWAYS HUNGRY)
Check out how I keep my sugars, hunger & cravings in line!
BLUEBERRY QUINOA BARS
Ingredients:
1 1/4 cups rolled oats (My fav here: Bobs Red Mill)
1/4 c coconut flour (homemade or your fav brand! See mine here: Bobs Red Mill)
1/2 c cooked quinoa (my fav here: Quinoa Mothergrain - this brand is sustainable & organic!)
Four pitted large dates
One flax egg (see here how) or one organic egg
One TSP baking powder (Or tartar powder if you don't have any)
One medium banana (or 1/2 c of homemade nut milk or your fav brand!)
Two tablespoons of preferred nut butter
One TSP Vanilla extract
One TSP Almond extract
1/2 TSP cinnamon
Pinch of pink salt
One scoop of Collagen Peptides (my favs here)
One c of fresh wild blueberries!
How to:
Preheat the oven to 350 F

Line a baking dish (about 8 inche glass dish) with parchment paper

Combine Oats & Coconut Flour into food processor - mix until blended well
Combine Nut milk and Dates into food processor and mix until creamy consistency
In a large mixing bowl combine all dry ingredients (oats, cooked quinoa, baking powder, cinnamon, salt, collagen) Mix until totally combined
In separate bowls whisk together the egg, nut milk & date mixture, vanilla & almond extract & nut butter until totally combined
Add wet ingredients into dry ingredients and mix thoroughly
Add blueberries at the end and gently fold them into batter
Place batter on parchment lined dish - roughly one inch thick
Sprinkle rest of blueberries on top!
Bake the bars for 30-minutes

Check if ready by sticking a toothpick into the bars - if no batter sticks then they are complete!
If not cooked through continue to check at 5 minute intervals

Once ready - remove from oven and let cook for ten minutes
Cut into squares and drizzle with some maple syrup
VOILA!
I hope you enjoy these breakfast bars as much as I have! Comments? I'd love to hear them!
This recipe is adapted from The Health Mason's Quinoa Bars